Media
Sue and Marcus Haritos: With diligence for the price
During our conversation on the lanai of their home in Cape Coral, the cell phones ring at regular intervals. First of Marcus, then also of Sue Haritos. Usually they must range, "can't be avoided," as Marcus says smiling.
Autor: Dirk Rheker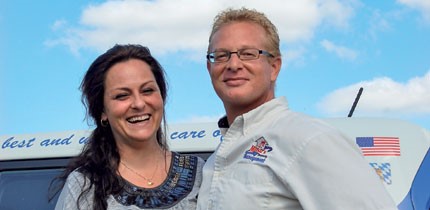 Sue and Marcus Haritos have written a great success story with literally German thoroughness in Florida. (Photo: © Dirk Rheker)
One thing quickly becomes clear: Here two people are in the middle of (entrepreneurial) life. How could it be otherwise, if one with its cleaning company Masu's Cleaning Service and the property management Masu's Property Management employs over 20 coworkers. It is not surprising if dozens of things have to be settled in the course of a day. "And this is the best time over the phone," as Sue Haritos explained with a smile - because of course, at the same moment already the cell phone rings.
A pretty success story, the couple since 2006 in the Sunshine State has. In Germany, Marcus was already active in the building cleaning business and Sue deputy accounting officer at BMW. But the idea of emigration and entrepreneurship had long since lingered in the two. It was not difficult to decide which country to go to: Marcus was born in Munich, but he had his citizenship by his American father (and Sue meanwhile doubled).
Of course the beginning was difficult, but with clever business ideas, lots of diligence, German thoroughness and a bit of luck they could realize their dream. There is hardly time for leisure. "We are often happy if we can fall to the couch after a 12-hour day," Sue Haritos laughs. After all, once a year, the couple treat themselves to a vacation in the Bavarian Alps. "Because our family, Munich and the mountains, are the only things we miss here !!!"
Cape Coral Daily Breeze, report of July 1, 2007