Cape Coral
is a city located in Lee County, Florida, United States, on the Gulf of Mexico. Founded in 1957 and developed as a master-planned, pre-platted community, the city grew to a population of 154,305 by the year 2010. The city's population estimate was 165,831 for 2013 and 181,211 for 2015. With an area of 120 square miles (310 km2), Cape Coral is the largest city between Tampa and Miami. It is a principal city in the Cape Coral - Fort Myers, Florida Metropolitan Statistical Area. The population estimate for the statistical area was 679,513 for 2014.[2] The city is known as a "Waterfront Wonderland", with over 400 mi (640 km) of navigable waterways, Cape Coral has more miles of canals than any other city in the world.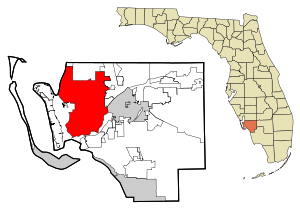 Location in Lee County and the state of Florida
Coordinates: 26°38'23?N 81°58'57?W, 26°38'23?N 81°58'57?W
Country

United States

State

Florida

County

Lee

Founded

1957

Incorporated

1970

Area

City

120 sq mi (300 km2)

Land

110.09 sq mi (285.1 km2)

Water

9.91 sq mi (25.7 km2)  9%

Elevation

5 ft (2 m)

Population (2015)

City

175,229

Density

1,479/sq mi (571/km2)

Metro

645,899

 

2015 City Government

Time zone

EST (UTC-5)

Summer (DST)

EDT (UTC-4)
Cape Coral ist eine Stadt im Lee County im US-Bundesstaat Florida und mit 180.304 Einwohnern (Stand: 2015) die größte Stadt des Countys.
Demographics
Historical population

Pop.

 

%±

10,193

 

—

32,103

 

215.0%

74,991

 

133.6%

102,286

 

36.4%

154,305

 

50.9%

175,229

[15]

13.6%
As of 2010, Cape Coral was the eleventh largest city in Florida by population. More than 60 percent of the population is between the ages of 15-64 and residents under 25 outnumber residents over 65. Southwest Florida's 18-24 age group is growing at a faster rate than the state of Florida and the United States.
As of 2010, there were 78,948 households out of which 23.0% were vacant. In 2000, 29.5% households had children under the age of 18 living with them, 61.2% are married couples living together, 9.3% have a female householder with no husband present, and 25.9% are non-families. 19.7% of all households are made up of individuals and 9.7% have someone living alone who is 65 years of age or older. The average household size is 2.49 and the average family size is 2.85.
In 2000, the city's population is spread out with 22.6% under the age of 18, 5.8% from 18 to 24, 26.8% from 25 to 44, 25.3% from 45 to 64, and 19.6% who are 65 years of age or older. The median age is 42 years. For every 100 females there are 94.1 males. For every 100 females age 18 and over, there are 91.6 males.
In 2000, the median income for a household in the city is $43,410, and the median income for a family is $47,503. Males have a median income of $32,320 versus $25,068 for females. The per capita income for the city is $21,021. 7.0% of the population and 5.3% of families are below the poverty line. Out of the total people living in poverty, 9.2% are under the age of 18 and 5.6% are 65 or older.
Canals
The city has over 400 miles (640 km) of canals, more than any other city in the world. Most of the canals are navigable and some have access to the Gulf of Mexico. Cape Coral's canal system is so extensive that local ecology and tides have been affected.
Drinking Water
In 1977 Cape Coral, Florida became the first municipality in the United States to use the RO process on a large scale with an initial operating capacity of 3,000,000 US gallons (11,000 m3) per day. By 1985, due to the rapid growth in population of Cape Coral, the city had the largest low pressure reverse osmosis plant in the world, capable of producing 15 MGD (56,780 m³/day).
Roadways
Interstate 75 passes within 10 miles (16 km) of Cape Coral and connects northward to Tampa and on to the Midwestern states; and southeastward to Miami/Fort Lauderdale. Cape Coral borders on U.S. Highway 41. U.S. 41 and I-75 can be accessed from State Route 78 (Pine Island Road). Within the city a network of arterial roadways are established. Cape Coral has approximately 1,100 miles (1,800 km) of roadways. In general, the north/south routes are evenly spaced apart every one or two miles (3 km) and most of them have at least four lanes.
Bridges
Cape Coral is connected to Fort Myers by two bridges. The 3,400 feet (1,000 m) long Cape Coral Bridge connects Cape Coral Parkway to College Parkway in Fort Myers. The Midpoint Memorial Bridge connects Veterans Parkway to Colonial Boulevard. A number of other bridges span the Caloosahatchee River just east of Cape Coral in adjoining North Fort Myers.
Public transport
Public transit services in Cape Coral are provided by LeeTran. LeeTran operates 18 fixed-route bus services, including six within Cape Coral. Buses operate Monday through Saturday between 5:00 am and 9:45 pm, depending on the route.
Airports
Cape Coral is 14 miles (23 km) from Southwest Florida International Airport (RSW), which serves nearly eight million passengers annually. The airport's new Midfield Terminal Complex opened in 2005, with three concourses and 28 gates. In 2010, eighteen national and two international airlines, as well as the two major cargo companies, served the airport.
In addition to Southwest Florida International Airport, Cape Coral is also served by Page Field, a general aviation airport in Fort Myers eight miles (13 km) from Cape Coral. Charlotte County Airport (PGD) is located in Punta Gorda, just 10 miles (16 km) north of Cape Coral.
Hospitals
Acute care is provided by Cape Coral Hospital. Trauma Services are provided by Lee Memorial Hospital in Ft Myers, Fl or Tampa, Fl. In December 2012, the Lee County VA Healthcare Center opened on Diplomat Parkway, providing a large range of medical services to veterans.
Utilities
The City of Cape Coral operates water and sewer systems for the city. Sewage is collected and highly treated to produce reclaimed water, locally known as "rescued water". Reclaimed water is distributed throughout the city through a dual water pipe system, and used for irrigation. Alternatively, reclaimed water can be discharged into the Caloosahatchee River.
The Cape was among the first in Florida to deploy the new 4.9 GHz pre-WiMax wireless channel authorized by the FCC in 2003 for exclusive Public Safety use.
Economy
The economy in Cape Coral is based on Health care services, retail, and real estate/construction. The City's Economic Development Office promotes and incentivizes business relocation to Cape Coral. In 2016 the city's top five employers were the Lee Memorial Hospital, Lee County School System, Publix Supermarkets, City of Cape Coral and Walmart.
Education
Cape Coral has continuously expanding public and private school systems with high performance standards. Cape Coral is part of the Lee County School District, which is operated by the Lee County Board of Education. As of 2009, the Board of Education operated 8 elementary, 6 middle, and 5 high schools in the Cape.
There are four public high schools in Cape Coral: Cape Coral High School, built in the late 1970s, Mariner High School, which opened in 1987, and Ida S. Baker High School, founded in 2004 and named after one of the early principals of Cape Coral High School, with the building opening in 2005. The newest high school, Island Coast High School, opened its doors for the 2008-2009 school year.
In addition, the City of Cape Coral has created a municipal charter school system consisting of two elementary schools, one middle school, and one high school. The charter schools use the Core Knowledge and Cambridge Curricula. Since the system is public, there is no tuition. The municipal charter schools are available exclusively to children who live in Cape Coral.
The main campus of Florida South Western State College is located immediately south of Cape Coral in Fort Myers. The college offers associate and bachelor's degrees, plus technical training in fields such as allied health programs, computer networking & programming, business administration, paralegal, criminal justice and fire science. 2009 enrollment was more than 16,000 students on four campuses.
One of Florida's youngest state universities, Florida Gulf Coast University (FGCU), opened in 1997 in nearby Fort Myers and now serves more than 12,000 students. FGCU has established a Cape Coral satellite facility, which provides Cape students with a growing offering of core courses. The university offers undergraduate, graduate, and doctoral degrees, including an executive master's program, a college of business and engineering and biotechnology programs.
Other colleges and universities serving the area are Hodges University, Southwest Florida College and Rasmussen College.
Cape Coral is also home to the Cape Coral Technical College, a postsecondary educational institution operated by the Lee County public school system. It provides training in medical, computer and food-science fields. Employer-specific training, both on and off-site, is available through Business and Industry Services of Lee County which maintains an office in Cape Coral.
Culture and recreation
The city features a sandy beach and fishing pier on the Caloosahatchee River at the public Yacht Basin & Club. Cape Coral is home to the SunSplash Water Park, more than 30 recreational parks, and seven golf courses. Cape Coral offers a variety of Gulf beaches within 15 miles, such as Sanibel Island and Fort Myers Beach. The area is known by birding enthusiasts for a wide variety of wildlife and the largest population of burrowing owls in the state of Florida.
Senior activities include: Lake Kennedy Senior Center ,Tony Rotino Senior Center ,Friendship Centers of Cape Coral
Cape Coral's 400-mile (640 km) canal system provides many residents with waterfront living with access to the Gulf of Mexico via the broad Caloosahatchee River and Matlacha Pass. The Parks and Recreation Department maintains three public boat launching facilities. The Gulf of Mexico provides access to smaller tropical islands, rookeries, and sports fishing grounds.
Cape Coral's cultural assets include the Historical Museum, the Art Studio, the Cape Coral Art League, and the Cultural Park Theater, a 187-seat performing arts facility that serves as home to community actors. In addition, there are several regional arts and performance venues in the immediate area, including the Barbara B. Mann Performing Arts Hall.
Several parks and ecological preserves allow observation of the local wildlife. Elevated nature trails wind through the mangroves at Four Mile Cove Ecological Preserve.
Mike Greenwell founded an amusement park called "Mike Greenwell's Bat-A-Ball & Family Fun Park" that opened in February 1992.