Services
Property Management and Cleaning Service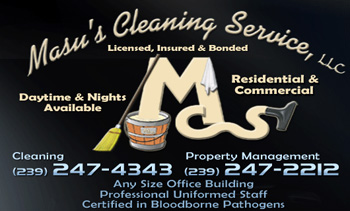 We are a janitorial cleaning service and building maintenance company. We provide detailed commercial and residential cleaning services and have been in business since 1987.
Masu´s Cleaning Service is equipped to serve with trained, experienced licensed, insured and bonded staff. We serve the area of Lee County with quality facilities janitorial maintenance and have more than twenty years experience, We also specialize first and third floor professional window cleaning service.
Masu´s Cleaning Service has a reputation as a dependable company. Whether your facility is a commercial office complex, an institutional or industrial facility, or simply a small business or residential home, we offer a full-range of contract and on-demand facility and cleaning solutions. Our clients have been trusting Masu´s Cleaning Service to provide quality cleaning service on a daily, weekly, monthly or one-time basis. Trust us to give you quality cleaning treatment.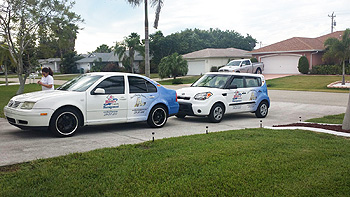 We look forward to assist with all your cleaning and maintenance needs and will personally guarantee to satisfy you.